Professional Translation Service
Language Translation Service For Multilingual Surveys
Language Translation Service
Survey Analytics offers experienced project managers, highly skilled technical staff and professional linguists with an ISO 9001-2008 Certified quality management system to offer most accurate Language Translations.
How does this service work?
Step I: Set up the entire survey in your account in your primary language.
Step II: Go To:
Login » Surveys » Integration » Translation Service
Add the required languages to your survey. You can add multiple languages.

1. Screenshot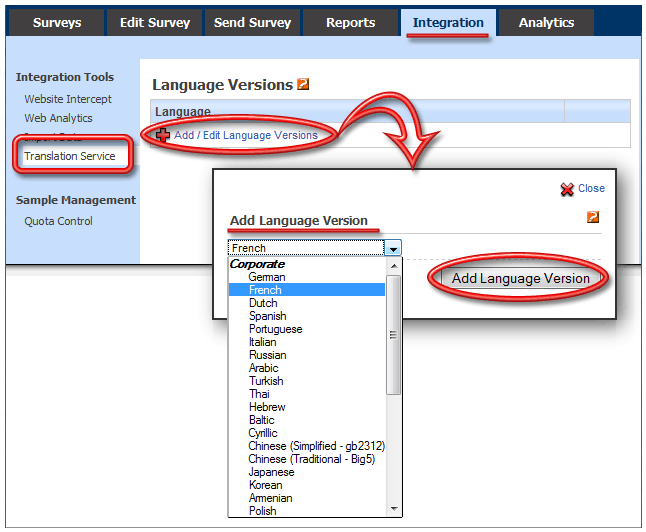 Please request a quote only after the survey has been finalized in the primary language.

Step III: Request and accept the quote for translation. Quote needs to be requested for each language individually.

2. Screenshot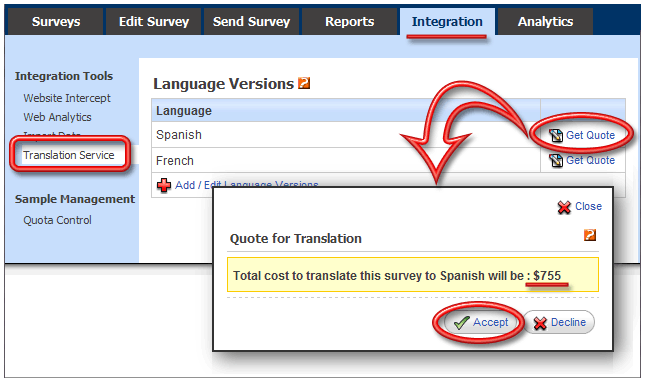 Step IV: Survey will be translated and updated in your account within 2 business days. You will be notified by email.
Language Translation service is available for which languages?
We provide language translation service for the following languages:

Language
English
German
French
Dutch
Spanish
Portuguese
Italian
Russian
Arabic
Turkish
Thai
Hebrew
Baltic
Cyrillic
Chinese (Mainland - gb2312)
Chinese (Taiwan/HK - Big5)
Japanese
Korean
Armenian
Polish
Hungarian
Swedish
Finnish
Danish
Slovakian
Romanian
Flemish
Norwegian
Greek
Czech
Catalan
Croatian
You may also be interested in...
Ready to start listening to your customers? FREE TRIAL