Tag Clouds
What is a tag cloud?
A tag cloud or word cloud (or weighted list in visual design) is a visual depiction of user-generated tags, or simply the word content of a site, typically used to describe the content of web sites. Tags are usually single words and are normally listed alphabetically, and the importance of a tag is shown with font size or color. Thus, it is possible to find a tag alphabetically and by popularity.
Where can I access tag cloud?
Go To:
Login » Surveys » Analytics » Text Analytics » Tag Cloud
1. Screenshot
For which question types are tag clouds available?
tag clouds are available only for Open Ended Text Comment Box type questions. Please add an Open Ended Comment Box type question to your survey (See help below). You can have multiple Open Ended Text Comment Box type questions in your survey. You can select the questions from the Options drop menu.
Can I share tag clouds?
Tag clouds can be shared/accessed via the link provided. You can also directly post tag clouds to facebook, twitter, etc.
3. Screenshot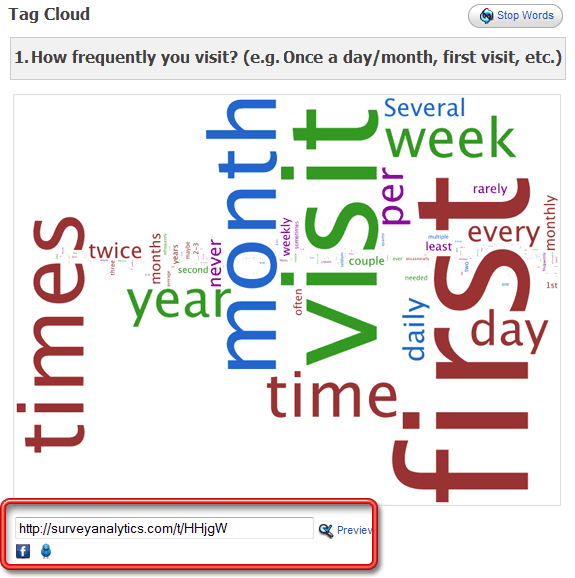 I don't want all words to show up in the tag cloud.
You can add words to Stop Word. When you add words to stop word, these words will not show up in the tag cloud.
2. Screenshot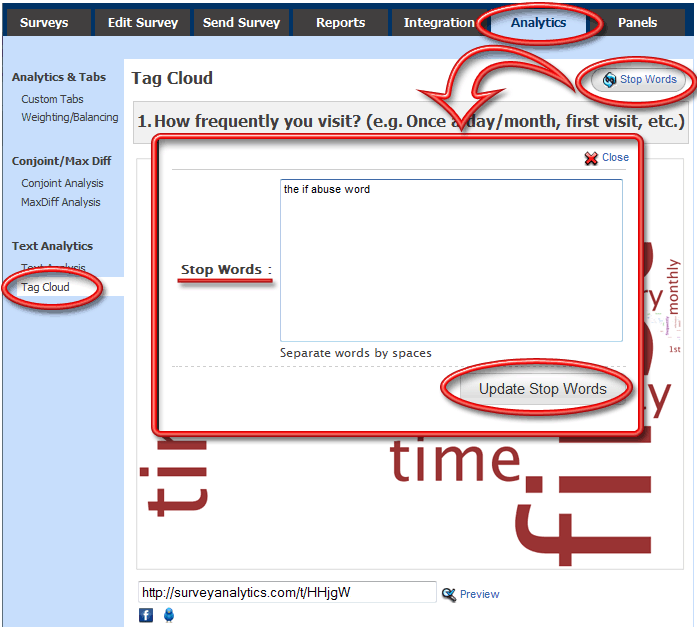 Stop words once added are applicable for all questions in the survey. Stop words cannot be applied to questions individually.
You may also be interested in...
Ready to start listening to your customers? FREE TRIAL