SurveyAnalytics Features
How do I access the Survey Chaining Feature
Survey Chaining is part of the Logic Module :
Login » Surveys » (Select Survey) » (Choose Question) » Add/Update Logic
1. Screenshot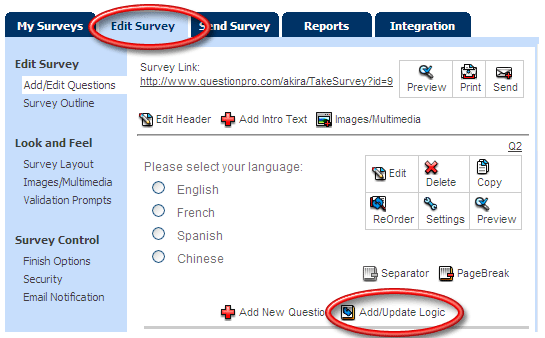 3. Screenshot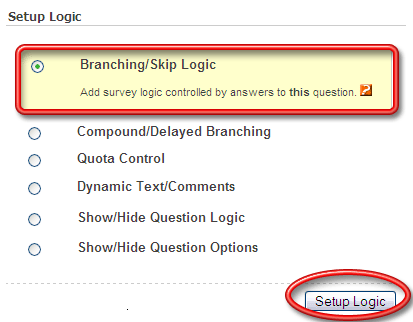 Select the Chain Survey option from the Jump To drop list. Chained Survey drop menu will now be displayed. Select the survey from the drop list. Do so for all the answer options and click on the Update Branching Information button.

2. Screenshot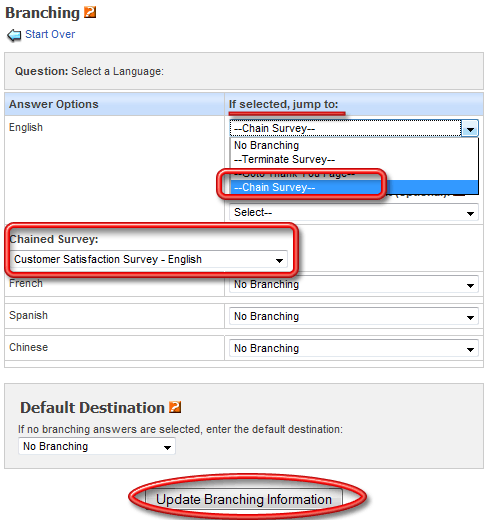 What is Survey Chaining?
Survey Chaining can be used to intelligently branch to different surveys depending upon how people respond to certain questions. Based on how respondents answer a question they will be taken to different surveys.
How can I use this feature?
Although there can be many applications to this feature, the primary application is for multilingual surveys.
A first survey with one question can be designed to ask users their preferred language
Depending upon their choice, you can branch to the different surveys created in different languages
If I chain from one survey to the other, can the data be automatically be interlinked?
Yes, when using our Email Management tool you can upload Custom Variables with the email addresses and these Custom Variables are passed along to the Chained Surveys using which you can link the Responses for Chained Surveys.
You may also be interested in...
Ready to start listening to your customers? FREE TRIAL