SurveyAnalytics Features
Survey Invitation | Email Invitation | Global Invitation - Edit Email Invitation Message/Text - How to?
How can I setup the Survey Invitation Email?
Survey invitations can be accessed under:
Login » Surveys » Send Survey » Manage Invitations
Survey invitations are survey specific. Please make sure you have selected the correct survey. Active survey name is always displayed at the top right corner.
1. Screenshot

Default template: For each survey a default template is provided.
Create New Survey Invitation: For each survey you can create up to 10 templates.
For each template you have the following options:
Send : To send out the survey invitation.
Preview : Preview the survey invitation.
Edit : To Edit the survey Invitation.
Delete : Deletes the survey invitation template.
How to edit the Survey Invitation?
Click on the Edit link to edit the survey invitation.
2. Screenshot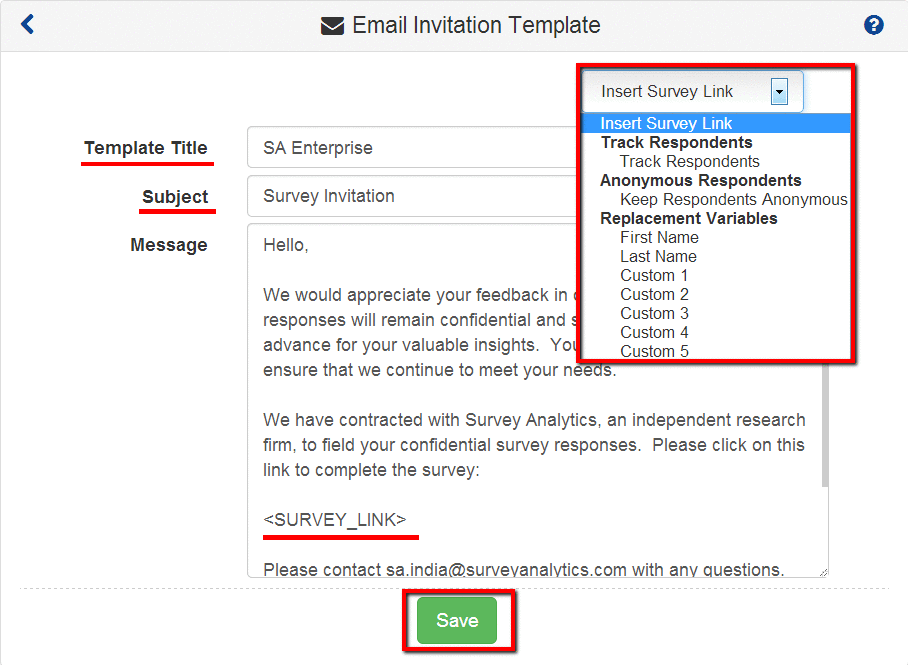 You can edit the following:

Subject : Subject for the email / survey invitation.

Body : Text for the invitation. You can use HTML in your invitation text. You can also insert images or attach files using HTML.
Mail Settings:
Under Mail Settings you can edit the From Name and From Email address. You can also specify the link text.
3. Screenshot

After clicking on "Edit" link an inline popup appears.

4. Screenshot

What are Global Invitations?
Survey specific Invitations are used for a particular survey whereas global invitations are used when they need to be accessed globally.
You may also be interested in...
Ready to start listening to your customers? FREE TRIAL