SurveyAnalytics Features
Report Scheduler / Data Scheduler - How to?
What is the Report/Data Scheduler?
The Report Scheduler is a recurring and automated interface to automatically email you reports on a periodic basis. Typically this is used in a long running survey (transactional surveys) where you have a continuous data collection stream.
On one hand you have data being collected on an on-going basis, and on the other hand you can create a weekly schedule so that the data collected can automatically be emailed to your account. The Report Scheduler is meant for automatic delivery of the various reports that SurveyAnalytics produces.
How do I get started?
Goto :
Login » Surveys » Analytics » Data Management » Report / Data Scheduler
1. Screenshot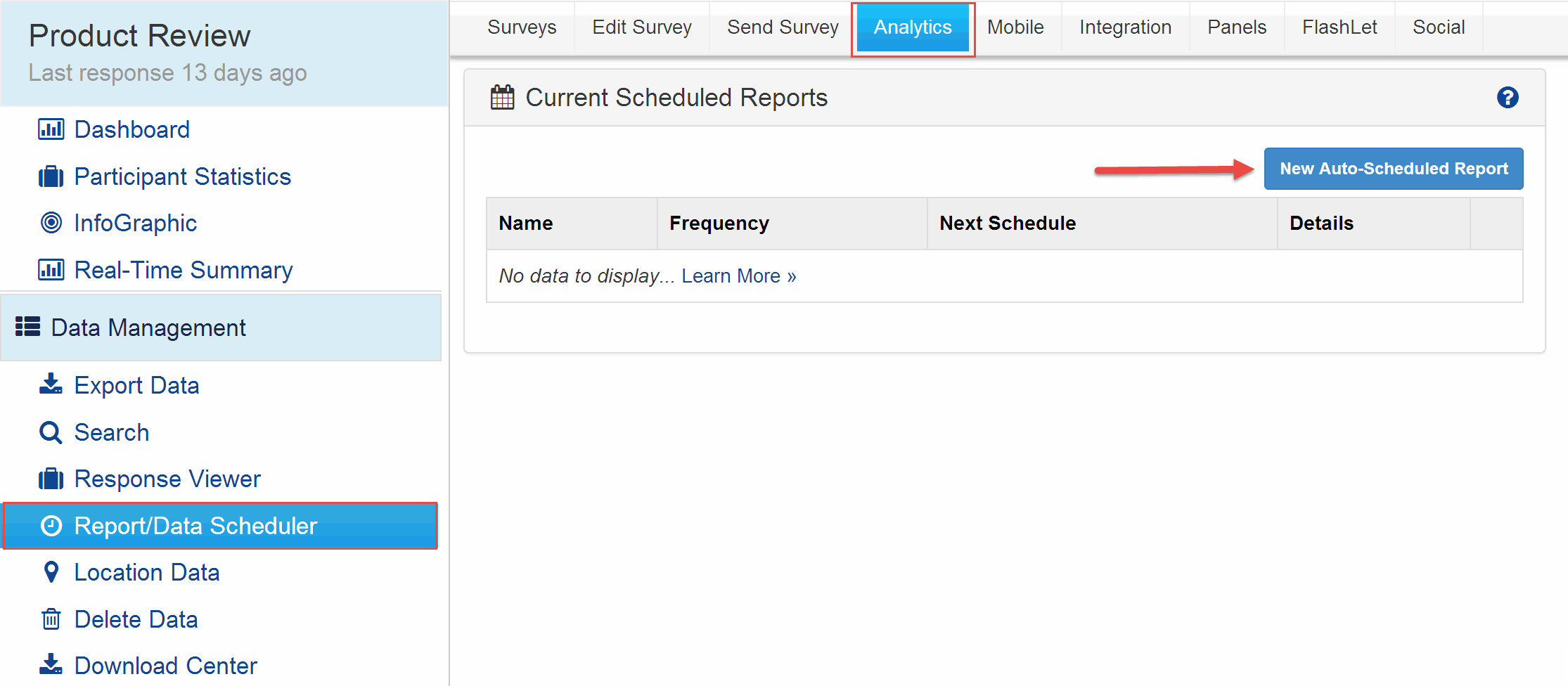 2. Screenshot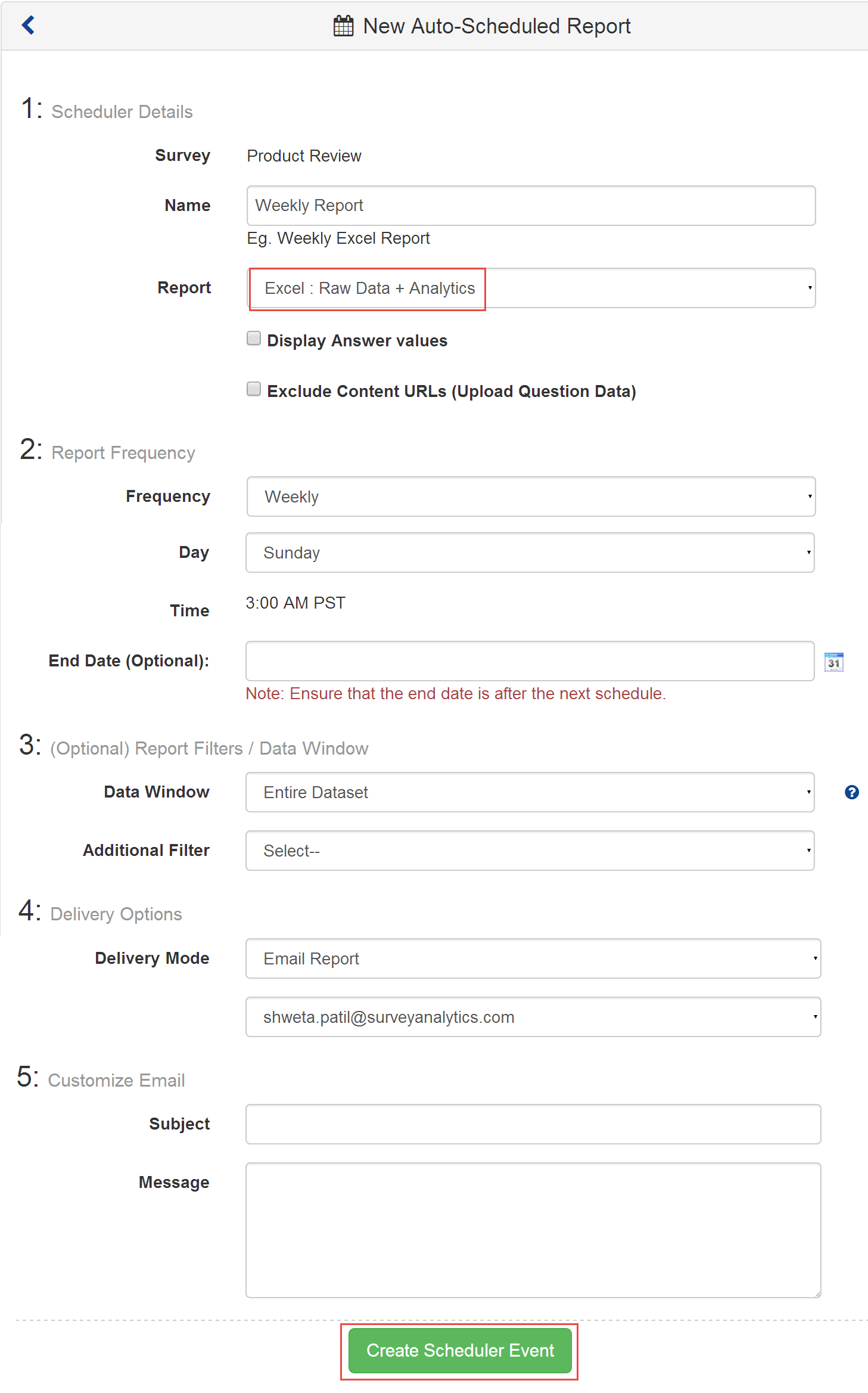 Can I customize the time at which the report runs?
Not at this time. We anticipate this will be a future release. Currently all the reports for a particular day will be run at 3:00 AM US Pacific Time.
Can I create schedules with other frequency - Monthly, fortnightly, quarterly etc?
No. Currently we are releasing a "Weekly" schedule option only. This may change in the future depending upon how many users ask for other frequency options.
How will I get notified when the report is ready?
The generated reports will be emailed to you based on the email address under your User Profile.
Can multiple users be notified automatically when reports are generated?
Yes, with global multi-user accounts (available with the Enterprise License) you can choose the users within your organization that can receive the reports.
Can I "modify" a schedule?
At this point we not allow for modifications of scheduled events. You can however delete the events as necessary and re-create them.
Can I temporarily "suspend" the scheduled reports?
Yes. Just click on the "Suspend" icon.
3. Screenshot

When the scheduler is "Suspended" you will not receive any reports etc.
What do the different options for creating the Report Scheduler mean?
Name This is the name that identifies this particular scheduler event. Please make this as descriptive as possible - Example - Weekly Excel Report etc.
Report This is the kind of report that can be generated. Choose the best report that suits your needs.
Frequency How often do you want the report emailed to you automatically.
Time/Date When do you want the report to be generated and delivered to you.
Data Window
By default, the reports will take into account all the data that has been collected under your account. However, in most cases, running the report on the entire data-set is not needed. It makes sense to generate the report only on the data collected say in the last three months or so.
In cases where you only want to see the open-ended comments for a particular survey or simply see the scores generated in the last week, you can shorten the Data Window to be 1 week.
What are the different kinds of report I can schedule?
The following reports can be scheduled:
Excel : Raw Data + Analytics This is the exact same Excel report that is generated by going to:
Login » Surveys » Analytics » Export Data » MS Excel Report
Excel : Trend Report This is the Trend Report that is generated by going to:
Login » Surveys » Analytics » Advanced Analysis » Trend Analysis
HTML - Real-Time Text Report This the the Open-Ended Text report generated by going to :
Login » Surveys » Analytics » Open-Ended Text
HTML - Real-Time Summary Report This the the Analytical Summary Report generated by going to :
Login » Surveys » Analytics » Real-Time Summary
CSV : Raw Data This is the CSV file that is generated by going to:
Login » Surveys » Analytics » Export Data » Raw Data - CSV File
Custom Report : Refresh Custom Report If you have custom reports created :
Login » Surveys » Analytics » Online Tools » Customized Reports
You can "Refresh" the data automatically by choosing this option.
I have scheduled a report and I am not receiving it. What am I doing wrong?
The scheduled reports are automatically emailed to the email address specified in your account. If you are not receiving the emails please check the following:
SPAM/Junk Mail settings - Please check your email SPAM/Junk settings to make sure emails coming from SurveyAnalytics are not categorized as SPAM/Junk.
Please check with your IT department to make sure your organization is not blocking emails coming from SurveyAnalytics as SPAM.
You can verify that the report was run by click on the "Next Schedule" link for the scheduled report in question.
4. Screenshot

You may also be interested in...
Ready to start listening to your customers? FREE TRIAL