SurveyAnalytics Features
What is the Reference Data Question Type?
The Reference Data Question Type is used to collect/validate data against "standardized" databases -- for example US Zip Codes.
For example, if you wanted to ask users their Zip Code and wanted to validate (to make sure that the data entered is correct) against the standard US Postal Service Zip Code database you can use the Reference Data question type for this.
How to add Reference Data Question?
Under the Edit Survey tab click on the Add New Question link.
1. Screenshot
Select the Reference Data question type from Advanced Question types.

2. Screenshot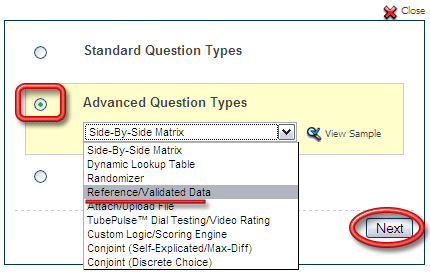 On the Question Wizard screen select the Reference Data Type and save question.

3. Screenshot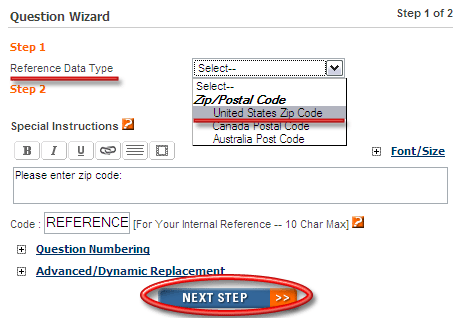 What are the different databases do you support?
Currently we support the following databases:
United States Zip Codes
Canadian Postal Codes
Australian Post Codes
What about zip/postal codes from other countries?
Most countries do NOT make their Zip/Postal codes available free of charge. For example, in order to import the UK Postal Database, we would have to pay the Royal Postal Service over 20,000 USD. If you are from a country that HAS OFFICIALLY made the postal code/zip code database publicly available, please send us the URL/Site. We may incorporate/import that data and make it available as part of our standard databases.
What about other databases -- Like a list of all High Schools in the US, or a list of all Universities?
These are custom databases (that are not available in the public domain) -- They have to be acquired by purchasing custom data licenses from various data providers.
You may also be interested in...
Ready to start listening to your customers? FREE TRIAL