SurveyAnalytics Features
How to e-mail a survey using the Survey Analytics Enterprise Research Platform. Survey Software, Online Surveys, Survey Analytics, E-mail Surveys, Online Questionnaires
Send Survey | Send Email Invitation | Survey Invitation Email
How to send a survey via email?
Once you have set up the survey, you can send it via email under the Send Survey tab. To do so go to:
Login » Surveys » Send Survey » Send Survey Options » Email
1. Screenshot

Enter in one email addresses per line and click on the Send button.

2. Screenshot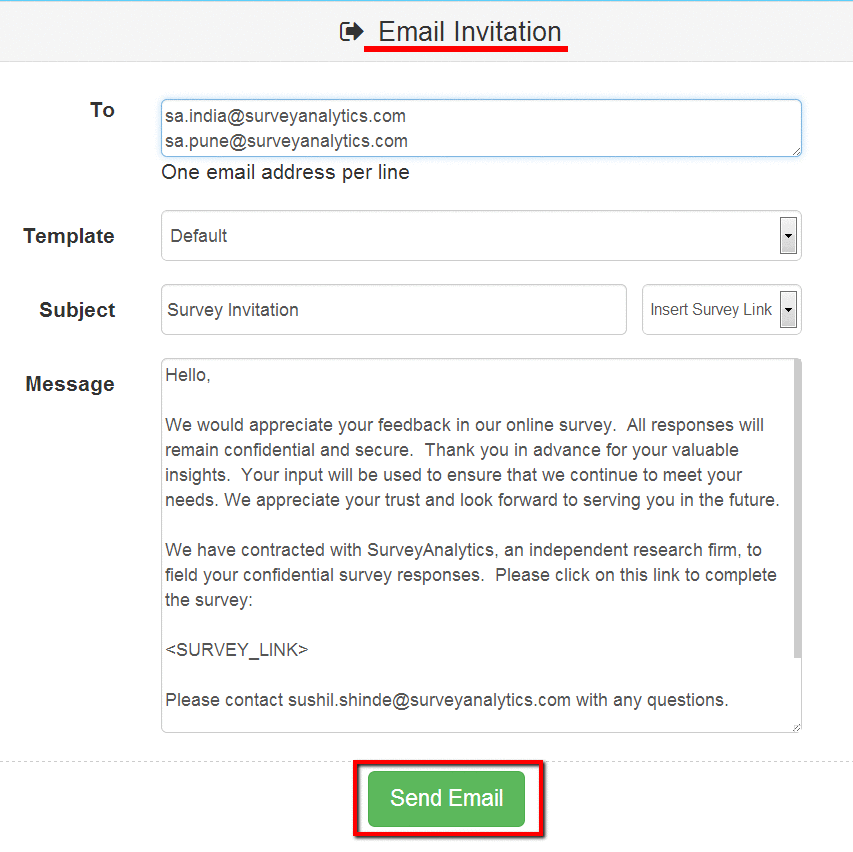 To: By default Upload Addresses option is selected. You can enter in the email addresses (one per line). If you have created Email Lists then you can select them from the drop menu.
Template: Here you can select the specific template which you created for the Email invitation.
Subject: Here you can specify the Subject for the Email invitation.
Insert Survey Link options: By default Respondent Tracking link for the Survey is included in the email. If you wish to change this then use options from the Insert Survey Link drop menu.
Message: This is the Email text. You can edit it before sending. You can also include HTML and insert images/files if required.
Please note that when sending Email Invitation the Account Email address is used as the "From" Email Address. If you wish to use an email address other than the Account Email Address then please update the same under Mail Settings (See help link below).
You may also be interested in...
Ready to start listening to your customers? FREE TRIAL