Market-Segmentation Simulator
Market Segmentation Simulator
Market Segmentation Simulator
The Conjoint Simulator is by far the most interesting aspect of Conjoint Analysis. This gives you the ability to "predict" the market share of new products and concepts that may not exist today. This also gives you the ability to measure the "Gain" or "Loss" in market share based on changes to existing products in the given market.

The first step in Conjoint Simulation is identifying and describing the different products or concepts that you want to investigate. We call these "Profiles". As mentioned earlier, any product or concept can be identified or created using the Attributes and Levels that have been defined for the study. For the purposes of the Conjoint Simulator, a product or concept comprises of all the Attributes and one level from each of the attributes.

For example one of the profiles could be: Brand - Sony, Price - $899, Resolution - 1080p Size - 42".

In most cases we would want to find out all the existing products that are available in that market segment and simulate the market share of the products to establish a baseline. Once this is established, it would be a good starting point for trying out new services and ideas and see how the market share shifts based on new products and configurations.

Go To:
Login » Surveys » Analytics » Choice Modelling » Conjoint Analysis
From the Online Tools drop menu select the Setup / New Profile link under Market Segmentation Simulator
Select the Profile Options under Simulator Profile
Click on the Save Profile Changes/Run Simulation button.
1. Screenshot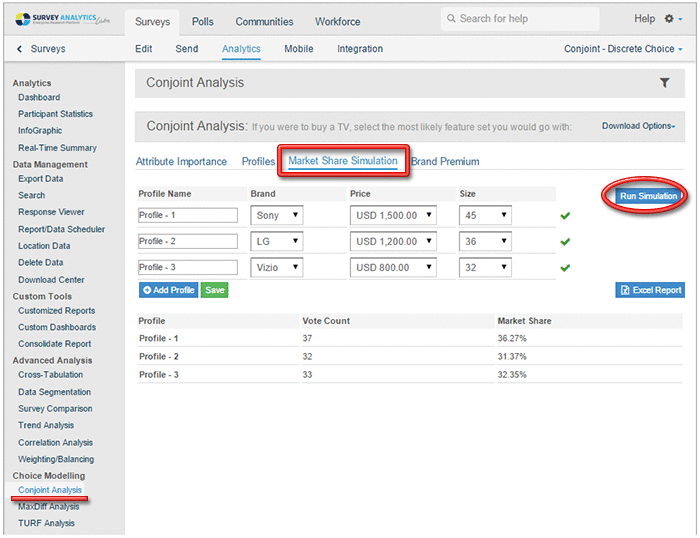 Ready to start listening to your customers? FREE TRIAL